The Nag's Head hosted an early appearance for folk/prog rock giants in the making Jethro Tull on Friday 24th May 1968.  The band, formed in late 1967, had released just one single at the point of their Nag's Head appearance and their debut album had yet to be recorded.  Less than a year later, their first vinyl long-player had hit the top 10 UK album charts and by the early 1970's they were touring the world playing huge arenas.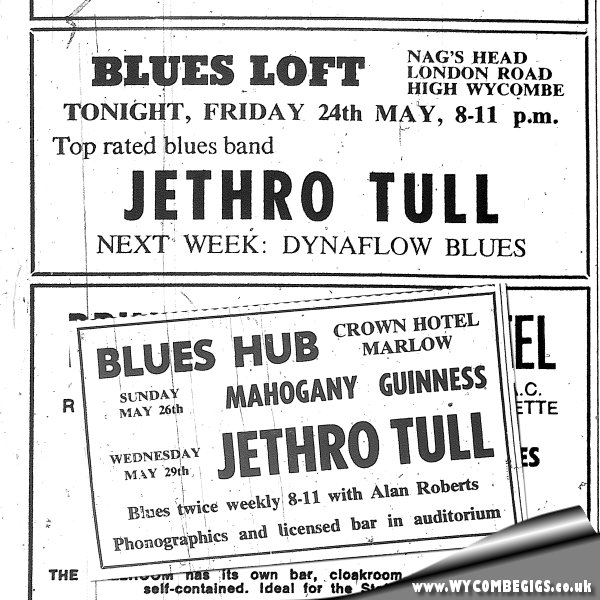 Promoter Ron Watts recalls the gig in his 100 Watts – A Life In Music – autobiography, where he claims he trialled an admission charge increase method.
"The normal price of admission was six shillings, but rather than reduce the price for an unknown band as Tull were then, I charged 6/6 (32 ½ p). I gambled that people would think that the higher price meant Tull were well-known, and potential customers would be too embarrassed to admit to their friends that they'd never heard of the night's star attraction. The gamble worked, the place was full and Tull did a great set."
The original band members had met in Blackpool. They found success after moving south to base themselves in Luton and settling on the name Jethro Tull.  Scottish born Ian Anderson on lead vocals and flute was a main focus, with other band members at the time of their High Wycombe appearance being Micky Abrahams (guitar), Clive Bunker (drums) and Glen Cornick (bass).  They released their first single, "Sunshine Day/Aeroplane" on MGM records in February 1968, although it was miscredited to 'Jethro Toe'.
Following their appearance at The Nag's Head, on 29th June 1968 Jethro Tull played the first ever free concert at Hyde Park, along with The Pink Floyd, Roy Harper and Tyrannosaurus Rex.  Footage of the concert was filmed by Pathe news and has since appeared in documentaries about the band.  In August 1968 they appeared at the National Jazz and Blues Festival at Sunbury-on-Thames and by most accounts, this was the point they became recognised by the national music press and their career blossomed as a result.
Support to Jethro Tull on 24th May 1968 were The Nag's Head houseband Dynaflow Blues.  They would also share the bill with Jethro Tull at the National Jazz and Blues Festival at Sunbury-on-Thames in August 1968.
Watts also promoted a Jethro Tull gig in Marlow the following week, with a show at The Crown. Watts added in his autobiography: "Six months later Tull's first album, This Was, had made the top ten album charts and the band had been the hit of that summer's festival circuit. People were coming up to me in awe, saying, "You booked them, and they became stars." It was nothing to do with me, I'd hardly heard of Jethro Tull when they played the Nag's, but they helped me to get a reputation for being able to spot up and coming acts. That meant people were happy to see bands they didn't know, because they thought that a few weeks later they'd be watching Top of the Pops and telling everyone that they'd seen all those performers playing at the Nag's."
It doesn't appear that Jethro Tull ever returned to play High Wycombe again but there is another connection with the area as Ian Anderson moved to live in Buckinghamshire for a number of years from the late 1970's through to the early 1980's – residing in a farm house in Radnage – a village about 7 miles from High Wycombe.  Footage of the farm (with recording studio added), plus the 1968 Hyde Park film, appears in the YouTube clip below.
For your listening and viewing pleasure
Fish 'n' Sheep & Rock 'n' Roll – Ian Anderson documentary – Channel 4 1987
Hyde Park footage is from 1:30 – filmed 29th June 1968
Footage at Radnage is from around 27:30
References:
http://www.ukrockfestivals.com/hyde-pk-6-29-68.html