Tragic news broke on the morning of 16th September 1977 when it was revealed that glam rock icon Marc Bolan had been killed in a car accident.  Bolan had appeared seven years previous at High Wycombe Technical College (4th December 1970)  as front man of the soon to be giant T.Rex.  He had also appeared a few years earlier at The Nag's Head in their earlier incarnation – Tyrannosaurus Rex.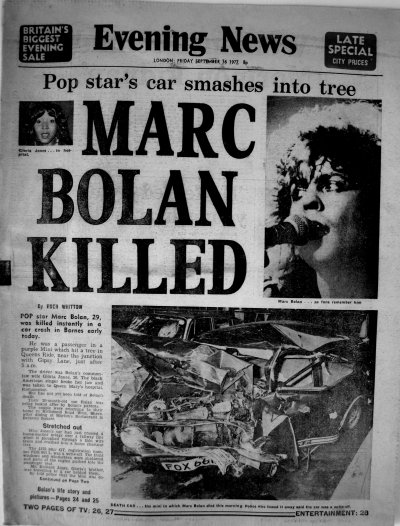 Just 29 years old at the time of the his death, Bolan was being driven by common law wife Gloria Jones, when their purple Mini hit a tree in Barnes, London. A 30 year old Jones escaped with a broken jaw and but was initially not told of the heart-breaking news of the death of her partner and father of two year old son Rolan.
This is Bolan in his last TV appearance before his death – an impromptu jam session with David Bowie on the 'Marc' TV show broadcast in the UK on ITV during August and September 1977.
The 'Marc' TV show also featured several up and coming 'new wave' bands, including some who had played live in High Wycombe earlier in 1977.
Here is Generation X performing 'Your Generation' – they had performed at The Nag's Head on four occasions in 1977 before they appeared on the 'Marc' show.