Less than two years after their infamous High Wycombe debut, The Sex Pistols took to the stage for what would be their last ever live appearance for the foreseeable future.
Their appearance at San Francisco's, Winterland Ballroom on 14th January 1978 came at the end of an ill-fated debut mini tour of the USA.  The Pistols line-up at the time was Johnny Rotten (vocals), Steve Jones (guitar), Paul Cook (drums) and Sid Vicious (bass).  By the end of the evening, Rotten's contempt for the situation was summed up by his farewell quote: "Ever get the feeling you've been cheated?"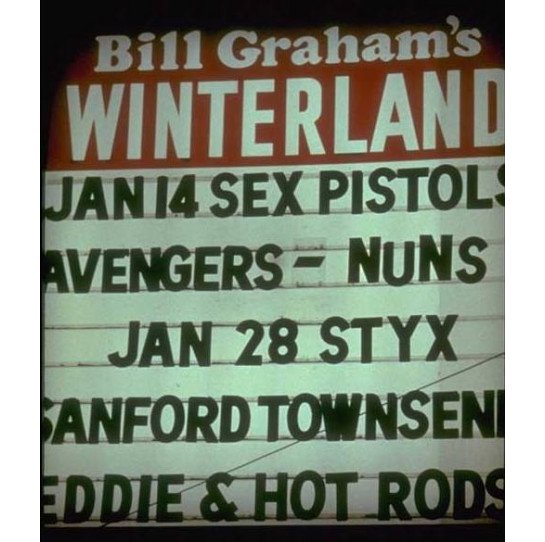 The original UK punks had debuted in late 1975 and it was their appearance at High Wycombe College of Further Education on 20th February 1976, witnessed by local promoter Ron Watts, that proved the catalyst for Pistols Manager, Malcolm McClaren, to ask Watts for live gigs at London's 100 Club.  After a ground-breaking residency at The Oxford Street venue, Watts, would bring the Pistols back to High Wycombe for an appearance at The Nag's Head on 2nd September 1976.
Debut single Anarchy in the UK was released in November 1976, Bill Grundy wound them up on live TV in December 1976 and the rest is history (as they say). They have since become the most written about 'punk' band of all-time and the measure that all subsequent controversial bands have been judged.
Following the split-up, Johnny Rotten reverted back to his original name of John Lydon and later in 1978 formed Public Image Limited (PIL). Steve Jones and Paul Cook would form The Professionals, while Sid Vicious played one live concert as part of the Vicious White Kids (August 1978), before a heroin overdose in February 1979 would take his life.  Original Pistols bassist Glen Matlock (replaced by Vicious in February 1977) had already formed The Rich Kids by the time of the Winterland gig and his new band would play High Wycombe on two occasions in 1978.
The set-list for the Winterland gig was:
God Save the Queen
I Wanna Be Me
Seventeen
New York
E.M.I.
Belsen Was a Gas
Bodies
Holidays in the Sun
Liar
No Feelings
Problems
Pretty Vacant
Anarchy in the U.K.
No Fun
Watch the entire performance from Winterland: