The passing of The Fall frontman Mark E Smith on Wednesday 24th January 2018 cannot be left without comment on this website.  If I don't write something, I fear my mind will literally explode with all the thoughts and memories of the Fall in the preceeding 40 years.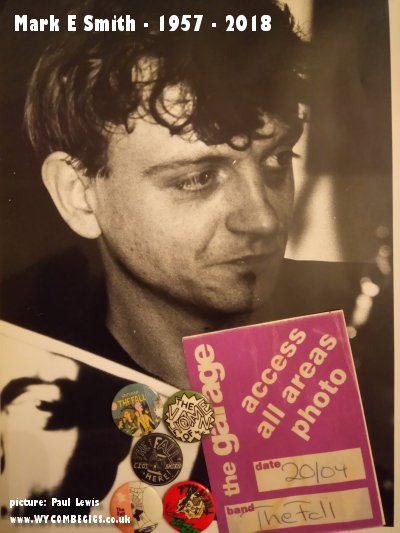 The Fall have played a huge part in my discovery of music and sadly (for me and many other Fall fans in the area), despite a live career spanning more than 40 years, The Fall never made a live appearance in High Wycombe – hence I offer them up as the greatest band NEVER to have performed in a town where so many other iconic names in the music industry have graced the likes of The Nag's Head and Town Hall stages.
Firstly, I would like to pass on my sincere condolences to Mark's family and friends. Plus, my heart goes out to the many Fall fanatics who will see Mark's loss as potentially leaving a significant void in their lives.
In the days following Mark's passing I have read numerous tributes and it is perhaps ironic (but not surprising to Fall fans), that he and The Fall will now gain wider recognition for their 40 years of constant output.
It was as recent as 12th January 2018 that I was able to 'joke' on Wycombe Sound's Punkarolla radio show for suggesting a two hour Fall special. I was therefore grateful to host Andy Chalk for allowing me to indulge in The Fall on his show and on that particular occasion, send my best wishes to Mark, before playing the title track off the 'New Facts Emerge' album, released in the summer of 2017
Most Fall articles will pretty much write themselves. The check list/The Fall bingo, will read something like:
One constant name
X number of band members in Y number of years
Z number of albums
One of John Peel's favourite bands, always different, etc
Girlfriends/Wives in the band
Punch-ups and knob twiddling on stage
So, bearing that in mind, I don't intend to write a tribute as such. There are trained journalists who will be able to collate the necessary words and pictures and I'll give some links at the foot of this article to a few of the many that I read in the first few days since Mark's passing.
I discovered The Fall in 1978, via John Peel of course, (oops, one off the Bingo list) but despite keeping an eye out for local gigs involving the Manchester band, it wasn't until the early 1980's that I managed a trip to The Hammersmith Palais to witness them in person for the first time. I travelled up from the Wycombe area with my friend Martin.  It was the first gig I drove to having passed by driving test a few days before.
For Fall fanatics (and I know there are plenty), they will appreciate this was their 'Hex Enduction Hour' period.  However, I soon learnt that The Fall, unlike the majority of the other bands, didn't 'tour' an album with a 'standard' set-list.  They would also throw in unreleased songs – with many still a work in progress.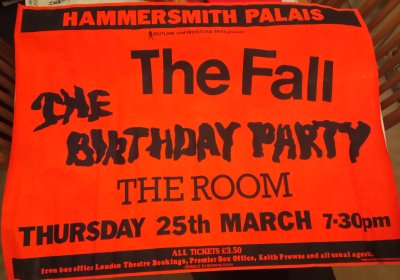 Fascinated by their Palais appearance, a month later I drove to some weird nightclub venue in Oxford – getting there around 7pm to give me more chance of getting in without a ticket but then had to wait for more than a hour before the doors opened and then until about 11pm before the band came on stage.  The set at Oxford included at least three songs that were completely new to me. I particularly remember the mesmerising bass lines.  I wanted to hear these songs again.  I had to wait a few months before they were back in area for another gig (a marathon four or five bander Sunday night at The Lyceum) but needless to say the set-list had changed dramatically again and it was Monday morning before I got home.
The non-conformist set list, the random stage times and as I had now realised, an introduction at literally every gig by Mark E Smith during their opening number with his iconic slur – 'Good Evening WE ARE THE FALL', would become a trademark.
I was pretty much hooked from those first few gigs. All so different – The Palais gig seeing them able to sell out a major London venue and then a month later playing a dingy nightclub where you could, if you chose, stand as close to the stage as you dared.  It is a quality to be proud of and one that lasted throughout their career.
So, how many time have I seen The Fall? A question that I've been asked a few times over the years and several times since we lost MES.  I've actually lost count but from an old list I found while writing this article, the figure was well in excess of 50 by the mid 1990's.  Yet, even that figure would not get me into 'Fall nutter' category.  Fall fans embraced the internet right from the early days and the lovingly created and maintained website http://thefall.org/ is a remarkable archive and ongoing discussion place for all things The Fall.  Prior to this, the Fallnet mailing list proceeded all the Facebook and Twitter malarkey.  It was still going strong at the time of this post, close to 25 years after it was first set-up.
So, back to my point about The Fall being the greatest band NEVER to have played High Wycombe. The nearest venues to High Wycombe The Fall played at were in Slough (birthplace of famous Wycombe promoter Ron Watts).  The rather unassuming Slough Centre on the Farnham Road in the summer of 1986 was the first chance.  I recall being quite disappointed with the set and crowd reaction but went to The Town and County Club in Kentish Town the next night and they played seven encores!
The Fall returned to Slough for a festival in July 1992 and it wasn't until 1996 that they finally made it to Aylesbury to play the Civic Centre – the same venue as used by Friars but a venue, for whatever reason, they had never previously played.
Slightly further field from High Wycombe, Reading was a regular location for Fall gigs – ranging from various appearances in front of 1,000's at Reading Festival, to gigs in front of a few hundred-people crammed in at venues such as The Alleycat and The Fez Club. It was during a 1998 gig at one of those latter venues that I witnessed the shear tenacity of MES to carry on regardless.  Unfamiliar, at that stage, with what had gone on a few days earlier in the USA, the gig was played out with a completely unfamiliar line-up and when the songs fell apart, a guitar was handed around the front row to help out.
I have to confess, the chaos of that night, temporally put my fascination of The Fall on hold. I attended a few gigs in London in the next couple of years but like watching a football team I came away thinking that I didn't really enjoy it that much but I'll just go along to the next game and hope things got better.
It was after travelling to see Wycombe Wanderers play their final game of the 2001/2 season at Swindon that myself and a few friends decided that seeing The Fall could be a perfect antidote for seeing our team enter that 'difficult period'. We arrived in London from Swindon by train and made our way to The Garage venue at Highbury Corner.  Approaching the doors sometime around 7.30pm, it was obvious the gig was in high demand.  The problem was we had no tickets and The Fall, by this stage, were not the band to attract the usual low life London ticket touts – although I would have appreciated them at this stage.  I joked to the others that I had attended Fall gigs previously and the band had gone for drinks in a bar close to the venue.  They might have spare tickets.  We randomly selected a fairly awful pub/wine bar just across the road from the venue.  It was relatively quiet – most gig punters were now in the venue.  We ordered our drinks and then realised that Mark E Smith was sitting across the room with a non-band member.  I can't say I was star-stuck to say something but perhaps more shy or afraid of a negative reaction.  A friend in our group, better known to us as 'Oily Sailor', was less shy.  Being considerably younger, he was less of a Fall fan and wasn't bothered what response he would get from MES.  The next thing we know is that 'Oily' is having a conversation with MES, explaining that the two 'old gits' at the bar are massive Fall fans but don't have tickets.  Almost without hesitation, MES pulled out two photo passes for the gig and handed them over.  It made the two 'old gits' very happy and I felt it only fair that I took a few photos of a gig that completely restored my loving of the band.
It was the beginning of another period of amazing creativity for The Fall and one where MES would eventually settle on a fairly stable line-up (by Fall standards) for his band. Fall fans will argue forever about what their favourite album or track is but from that period the 'Fall Heads Roll' long player is generally regarded as a classic.  I never tire of seeing and hearing the version of 'Blindness' on Jools Holland in 2005 and wondering what on earth Mr Holland is thinking about the sound emanating from the keyboard.
The Fall may not have been everyone's cup of tea and of course musical tastes are very much subjective. I once 'treated' my partner Jane (pregnant with our daughter) to a Fall performance at Cricklewood. For me it was right at a high point of The Fall's musical output.  I have to confess the sound that night was loud.  The bass was thudding away so much it vibrated right through your stomach.  Jane had to leave some of the gig because she said she 'felt sick'.  Her post-gig review was that it was, 'just a noise'.  Pretty accurate and perhaps a complement?  I didn't admit that I had seen other Fall gigs that had made me feel sick.
I recall MES describing Fall fans as 'Salt of the Earth' and it is Fall fans who will be best placed to attempt to explain the diverse range of output of the past 40 years. However, remember, if you are a non-Fall fan then don't consider criticising The Fall – only Fall fans have that option.  We will defend the band to the very end – and returning the football analogy, that's exactly what we often do with the football team you support.
However, it always seems strange to me that The Fall sometimes were on the end of criticism from those that confessed to be lovers of 'punk' and other diverse musical genres. Perhaps it was the characteristic of Mark E Smith never to be drawn into the importance of style or image?  MES and The Fall were very much anti-fashion.  It is certainly a credit to MES that The Fall never became a lame tribute to themselves, playing 'greatest hits' set-lists or following the usual rock conventions.  He performed, created and evolved constantly in the 40 plus years since he formed The Fall.  The Fall influence has been and will be felt for years to come – for Fall fans we know that already, for others you have that to come.
Goodbye Mark. It was an absolute pleasure to have been a small part of witnessing The Fall journey.
Bill is Dead – The Fall – Snub TV
Blindness – The Fall – Jools Holland – 2005
Further reading on The Fall

My photos from the gig at The Garage 2002 – note email address on this page is no longer valid but you can contact me via this website.
http://thefall.org/news/pics/02apr20_photos.html

Tributes and obituaries

https://www.theguardian.com/music/2018/jan/24/mark-e-smith-obituary

http://www.telegraph.co.uk/obituaries/2018/01/25/mark-e-smith-lead-singer-fall-obituary/

http://www.gq-magazine.co.uk/article/mark-e-smith-was-a-rogue-and-a-rascal-and-very-funny-too

http://www.independent.co.uk/arts-entertainment/music/mark-e-smith-dead-the-fall-lead-singer-dies-died-age-salford-post-punk-manchester-a8176636.html

https://www.nytimes.com/2018/01/25/obituaries/mark-e-smith-of-the-fall-dies.html