Clayson and The Argonauts made their second Nag's Head appearance of the year on Thursday 23rd June 1977.  It appears the band were making every effort to ride on the coat tails of the 'punk' and 'new wave' explosion happening in 1977 but it never quite happened.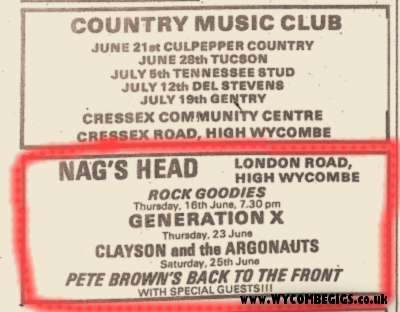 However, Clayson went on to become a well respected music journalist and author.  One of his most famous books, being 'Backbeat – The Story behind the Lost Beatle'.
The band had appeared at The Nag's Head in January 1977 and their popularity may have prompted promoter Ron Watt's to bring them back to the London Road venue.   A 2007 entry on Alan Clayson website recalls that Watts had once offered his 'services and manager' to Clayson and The Argonauts following this earlier Nag's Head show plus an appearance few days before at The 100 Club.  Clayson recalls: "I can still see him now, at the rear of the mob, eyeing a biscuit tin of coins and then us on the boards, fingering his moustache with sly satisfaction."  Clayson goes on to bemoan the fact that Watts didn't feel it worthy of mentioning The Argonauts in his 'Hundred Watts: Life In Music' autobiography.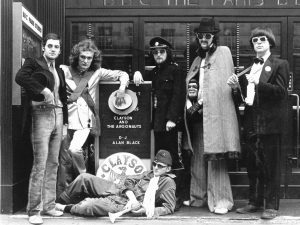 The band split up in 1986 but reformed in 2005 and at the time of this post (40 years after this 1977 Nag's Head gig), Clayson and The Argonauts were still on the road in the UK.
This is Alan Clayson and The Argonauts performing 'The Rakes Progress' during one of their performances following their reunion in 2005.  He mentions High Wycombe in the introduction?
References and further reading:
https://en.wikipedia.org/wiki/Alan_Clayson