Saturday 31st August 1963
John Mayall and his Bluesbreakers
West Wycombe Village Hall
A 29 year old John Mayall and his Bluesbreakers play 'The Wolf Club' hosted at West Wycombe Village Hall.  This was towards start of the Rhythm and Blues era in the UK and this gig appears to have been organised as part of, or on the back of, the embryonic stages of the famous Ricky Tick Club run by John Mansfield and Philip Hayward.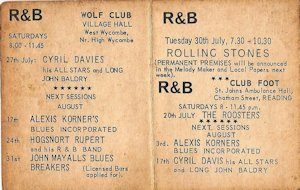 I am indebted to Gary Jones for supplying the above gig flyer. Gary later worked with Ron Watts during his time promoting at The Nag's Head in the late 1960's.
The flyer lists a series of R&B gigs in West Wycombe and Reading. You can also see from the flyer, a Rolling Stones gig to be played on 30th July 1963.  This gig would eventually take place at the Royal British Legion in Slough under the curious banner of Club Nod.
In between the first gig listed (Cyril Davies on 27th July 1963) and the Mayall gig, The Rolling Stones would make their High Wycombe debut with an appearance for the first time at the Town Hall on Tuesday 13th August 1963.  That would be opening of the 'Tuesday Dancing Club' at the town centre venue – more about those nights in future posts.
The West Wycombe appearance appears to be at a similar time that Mayall had moved to London from his northern roots in the Manchester area in order to take up a full-time career in music . The line-up for the West Wycombe gig is most likely to have included John McVie (bass) and Bernie Watson (guitar) and Peter Ward (drums) but comments are welcome.
It is interesting to read an extract from a biography on John Mayall's official website, describing the music scene the year before the gig in West Wycombe:
"After Britain's ten year traditional jazz boom had about run its course, a new generation was ready for something new. Out came the amplifiers, guitars and harmonicas and out came young enthusiasts from all over the country eager to form their own groups." That seems a pattern of events that would be repeated over time.
Mayall's appearance in West Wycombe is recalled by Ron Watts in his autobiography (Hundred Watts – a life in music). 20 years old at the time of the gig. Watts says: "It was packed, but as had happened in London at first, the audience wasn't responding. Because I was into the blues scene by now I was feeling a bit braver than usual, so midway through the band's second set I walked up to John and said to him, 'You need to mix things up a bit here, mate.'  To my horror, and to probably the crowd's delight, John announced to the band, 'This guy's gonna sing.'  I'd never, ever done anything like this in public before, I didn't even know I could sing, but we went through the Little Richard rocker Jenny, Jenny and it went down a storm."
There are a host of resources documenting Mayall's musical journey and the huge list of musicians he played with following these early gigs. At the time of this post, the 83 year old was preparing for gigs at Ronnie Scott's – some 53 years after his performance in West Wycombe!