Tuesday 17th December 1963 saw The Rolling Stones play their third gig of the year at High Wycombe Town Hall.  Formed in London, they had played their first ever gig at The Marquee Club in July 1962 and subsequently signed for Decca Records.  Their first single, released in June 1963, was a cover of Chuck Berry's 'Come On' and reached No.21 in the UK charts.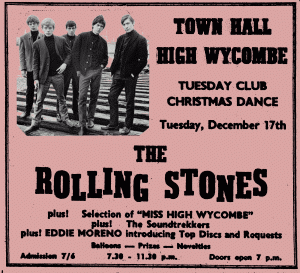 They made their High Wycombe debut at The Town Hall on 13th August 1963, with a second single following in early November 1963 – this time a Lennon/McCartney penned 'I Wanna Be Your Man' becoming a 'slowburner' and eventually peaking at No.12 in the UK charts in January 1964.  The song had the honour of being the first shown on BBC's Top of the Pops show broadcast on 1st January 1964.
Before then, they had time for two further appearances in High Wycombe – a 12th November 1963 showing followed by the 17th December 1963 pre=Christmas bash where the advert in the Bucks Free Press included the added draw of seeing a 'selection of MISS HIGH WYCOMBE'.
Admission was 7/6 (37 ½p).
A picture taken backstage showing Mick Jagger and Keith Richards is archived on the SWOP site (www.swop.org.uk).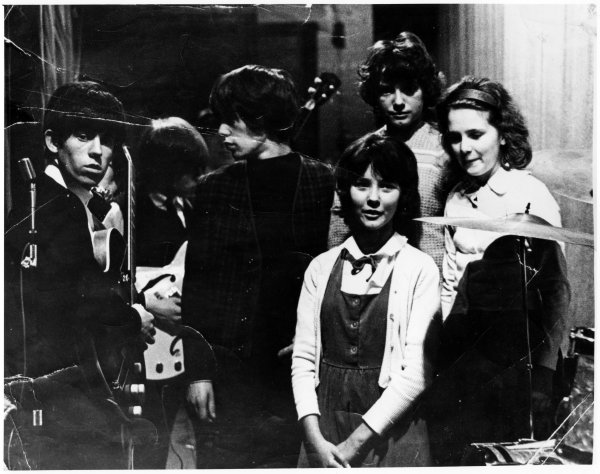 It's worth recalling the ages of the band members at the time of the December 1963 gig. Vocalist Mick Jagger was 20, Guitarist Keith Richards was just 19 but would celebrate his 20th birthday the day after The Town Hall gig.  Fellow guitarist Brian Jones was 21, Drummer Charlie Watts was 22, while the oldest band member was bassist Bill Wyman at 27.
Further reading
In February 2018 I had the pleasure of meeting one of the Stones fans featured in the picture taken at the Town Hall in December 1963. This was during guest slot on Wycombe Sound show Emperor's Bits – read more here.
For your viewing pleasure
I Wanna Be Your Man- Rolling Stones – Released November 1963