Monday 13th February 1967 – The Move – Town Hall
Birmingham  based The Move came to High Wycombe at point of their first UK chart success.  Formed in December 1965 with a line-up of Trevor Burton (guitar/vocals), Roy Wood (guitar/vocals), Chris Kefford (bass/vocals), Carl Wayne (vocals) and Bev Bevan (drums), they released their first single, 'Night of Fear', in December 1966.
The single peaked at No.2 in the UK on 26 January 1967 and just over a week later they were the headliners at High Wycombe Town Hall's Valentine Ball.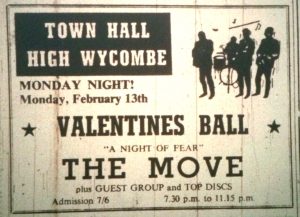 The Move were grouped into the 'Psychedelic' tag that the music press of the time were starting to use.  This was during a period of mass experimentation in not only the latest electronic music gadgets but also the mind altering substances prevalent in the music industry.
A quick look at the lyrics of 'Night of Fear' seems to reveal more, "Just about to flip your mind, just about to trip your mind".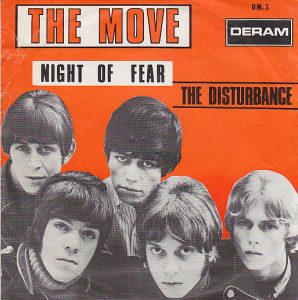 Their follow up single in April 1967, "I Can Hear The Grass Grow" reached No.5 in the UK charts and was also accused of containing references to 'the synthetic effects of hallucinogenics'.
Wood, 20 at the time of the Wycombe gig, would go on to claim fame with Wizzard in the 1970's, while Bevan (22), would become better known for his time in the Electric Light Orchestra (ELO).  They were both still performing at the time of this article, 50 years after their appearance at The Town Hall!
This is what they looked and sounded like back in early 1967.