The third single by The Sex Pistols was released on Friday 1st July 1977 – Pretty Vacant was a crowd favourite and a song dating back to their early gigging days in 1976.  After a gap of close to six months between their first single [Anarchy in the UK] and their follow-up [God Save The Queen], release number three came just five weeks after their controversial Jubilee effort.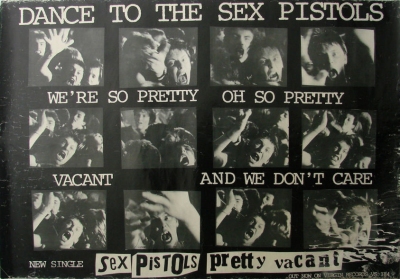 The song, with lyrics penned by front man Johnny 'Rotten' and music mainly by departed bassist Glen Matlock, is said, by the latter, to have its main riff inspired by hearing Abba's SOS.
The single went on to reach No.6 in the UK charts.  Sadly gigs were few and far between and there was no sight of a return to High Wycombe.  The band had played just three dates in the UK during 1977 at the point of the release of Pretty Vacant and all of those had been pretty much reserved for friends of the band.  They would eventually return to the UK for an August 1977 'secret' tour but it proved to be the beginning of the end for the punk pioneers who were now household names.
Here's the official video that was shown on Top of The Pops on Thursday 14th July 1977. Apparently it was recorded on the 11th and 12th July at ITN studios in Wells Street in London.  The band threw a can of lager over a cameraman on the 11th but came back the following day to finish the recording.