A High Wycombe District Council promoted 'Rock Concert' at High Wycombe Town Hall on Monday 12th February 1979 saw a fledgling Adam and The Ants take to the stage alongside local band The Vents.
The Ants date was part of their Young Parisians tour and the date appears to coincide with their departure from Decca records.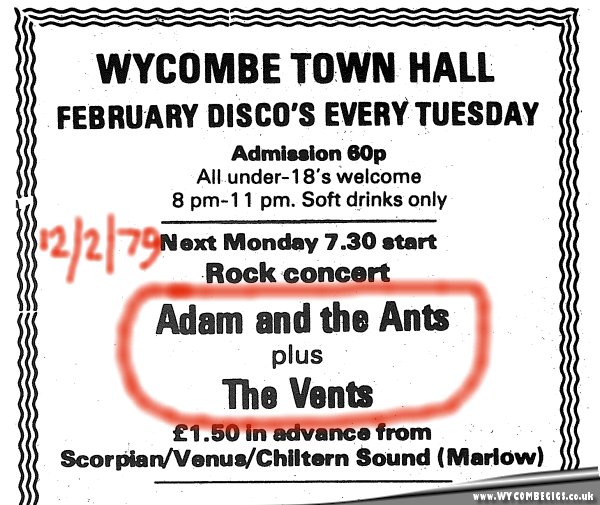 Adam Ant (real name Stuart Goddard) had formed the band in London in early 1977 – originally as The Ants, before adopting the eventually well-known Adam and The Ants title. They went through several line-up changes before signing for Decca records in 1978.  The debut single 'Young Parisians' had little chart success, although the band had built up a significant cult following, particularly in the London area, with their followers going under the guise of 'Ant People'.  During this post-punk period it was a common site to see gig goers with leather jackets painted with Adam and The Ants.
Further recording for Decca were made during 1978, along with two John Peel sessions. But their time with Decca does not appear to be a happy one.
The date of the Town Hall concert is noted as around the time that Adam and The Ants left Decca records – Goddard is quoted as saying:
"…as you know Decca own things like televisions and missiles and things like that…………..we weren't dropped by Decca, their A & R department just folded up and they let us go, which was just a joke. Everyone thought we were just a 100% hardcore speed band so we put 'Parisians' out.  I preferred 'Lady' and it was a double A side but Decca played it to Radio 1 and they said that 'Parisians' was better."
A bootleg recording of this concert has been widely circulated and confirms the set-list for the evening was:
Nietsche Baby
Day I Met God
Animals And Men
Cleopatra
Kick!
Never Trust A Man (With Egg On His Face)
Catholic Day
Boil In The Bag Man
Family Of Noise
Press Darlings
Zerox
Lady
Puerto Rican/Scab
Fall In
B-Side Baby
Hampstead
The line-up of the band at the time of the Town Hall appearance was Adam Ant (vocals and guitar), Matthew Ashman (guitar), Andy Warren (bass guitar) and Dave Barbarossa (drums).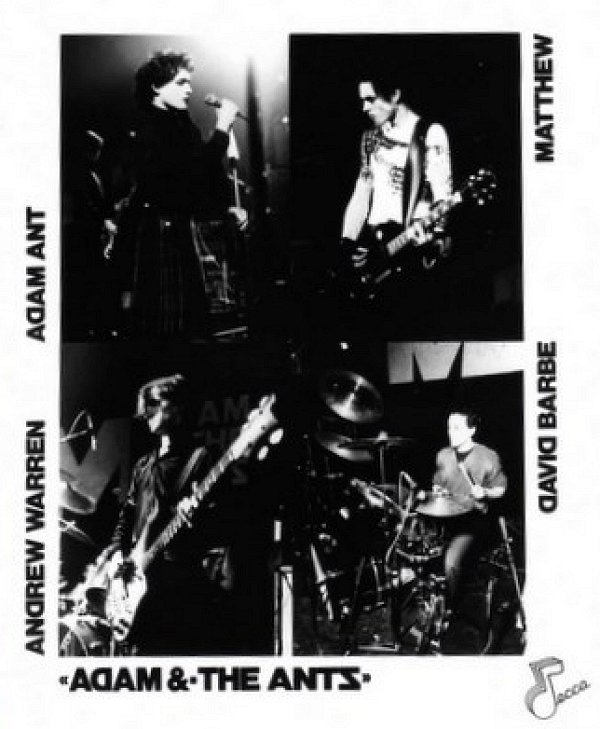 They went on to release their debut album, 'Dirk Wears White Sox' In October 1979 on the Do It record label. It would reach the top of the newly formed Independent Album charts.
The history of Adam and The Ants post their Town Hall appearance in February 1979 is an interesting one. Former Sex Pistols Manager Malcolm McClaren was hired by Adam and The Ants in early 1980 to help with their path to wider recognition.  However, instead, McClaren convinced Matthew Ashman (guitar), Leigh Gorman (who had by then replaced Andy Warren on bass) and Dave Barbarossa (drums) to leave the band and form a new group under McLaren's management. A thirteen year old Annabella Lwin would become the lead vocalist for the new band – Bow Wow Wow.
Meanwhile, Adam Ant continued with a new version of his band featuring guitarist Marco Pirroni (an ex-member of Siouxsie and the Banshees, The Models, Rema Rema and Cowboys International) plus Kevin Mooney (bass guitar), and two drummers, Terry Lee Miall and Chris Hughes. The new band would take to the road for their 'Ants Invasion' in the first-half of 1980 while still pinning down a record deal.  They would visit High Wycombe again in May 1980 for what would become an infamous evening at The Town Hall and one that proved the catalyst for the local Council to end 'rock concerts' at the historic venue.  I'll leave the detail of that evening until a later posting but those with memories of the 1979 or 1980 (riot) are welcome to get in touch.
For your listening and viewing pleasure:
Young Parisians – Adam and The Ants – single audio 1978

Lady – Adam and The Ants – single B side audio 1978
References and further reading:
http://www.antmusic.co.uk/my_story/1979/1979.html
https://en.wikipedia.org/wiki/Adam_and_the_Ants
https://killyourpetpuppy.co.uk/news/adam-and-the-ants-decca-records-1978-do-it-records-1979/
https://punkygibbon.co.uk/bands/a/adamandtheants.html