Rock 'n' Roll legends Bill Haley and the Comets played a nostalgic concert at High Wycombe Town on Tuesday 30th April 1968.  The Bucks Free Press advert promoted the evening with the strap-line: 'A Legend in Their Own Lifetime! From U.S.A. – the Kings of Rock 'n' Roll.' 8/- (40p) would have gained you entry with 'Seating in the balcony for non-dancers'.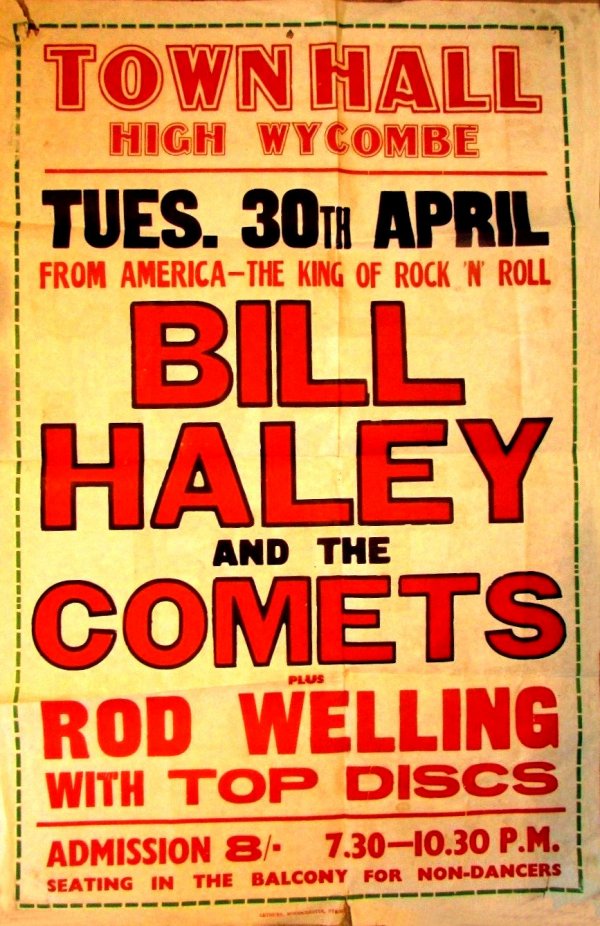 The U.S.A. group had first hit the charts in the 1950's, with 'Shake, Rattle and Roll' becoming the first rock 'n' roll single to break in the UK charts in December 1954. Their most famous song, 'Rock Around The Clock' was originally released before this date as a 'B' side and its success didn't take off until it was used in the opening credits to the film 'Blackboard Jungle', released in March 1955.
Returning to their 1968 appearance in High Wycombe, the Bucks Free Press previewed the gig by saying: "Perhaps the greatest group to come out of Rock and Roll was Bill Haley and the Comets. They will be playing at High Wycombe Town Hall on Tuesday.  Though for most teenagers the days of rock and roll are a bit distant, Bill Haley has a fantastic stage act and this should be an evening worth watching."
Unfortunately there was no review of the gig in the BFP but mention of the gig can be found in the August 2016 edition of Record Collector magazine where a letter from Dean Smith recalls: "I did get to see Bill & His Comets, at High Wycombe Town Hall. I was in the darker area at the back of the hall enjoying not only the full spectacle but also lots of 30-40-something couples trying to get space enough to jive amongst clumps of young teenagers jigging up and down and trying to throw shapes copied from rock'n'roll film posters."
The gig appeared to briefly relight the old school rock 'n' roll scene in High Wycombe and a 'Rock 'n' Roll Revival Show' was subsequently arranged at the Town Hall on Tuesday 14th May 1968.  However, the BFP reported the evening was not well attended and further Tuesday evening concerts tended to stick to the more current 'pop' acts.
For you listening and viewing pleasure
Bill Haley returns to England – 1968 Pathe News
References:
http://recordcollectormag.com/letters/hail-haley