The Sex Pistols Experience return to High Wycombe on Saturday 27th April 2019 with a gig on the outside 'festival' stage at The Antelope pub just off the High Street.  Support comes from London punk/rock 'n' rollers, Rebel Station.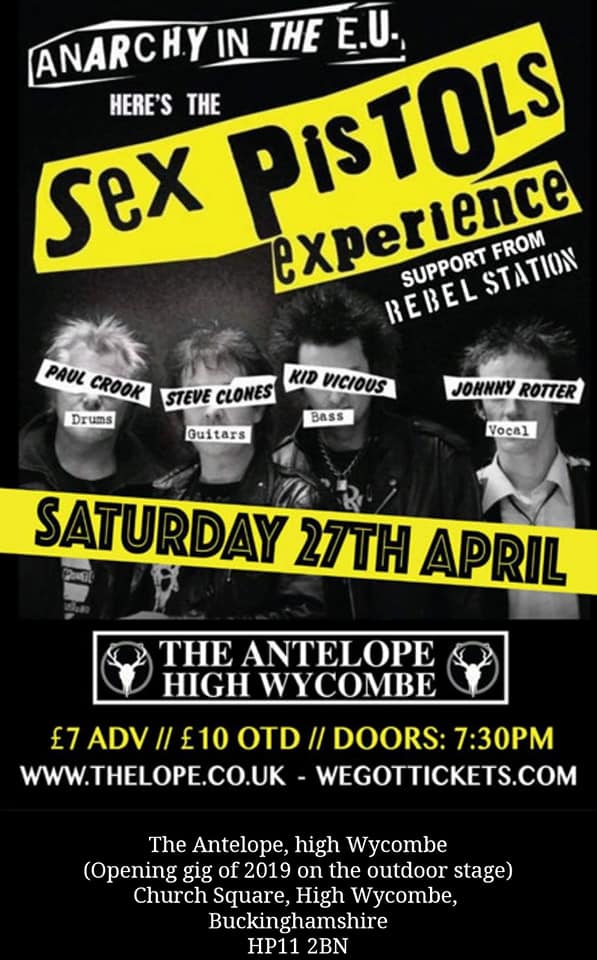 This is the opening night of The Antelope's summer run of gigs and I would recommend you check out the links below for the latest information regarding other forthcoming gigs at this long running venue of live music in High Wycombe.
Returning to the Sex Pistols Experience, they are widely regarding as the leading tribute to the punk icons and their appearance gives me the usual opportunity to link to the February 1976 gig at the college featuring the original band – some 43 years previous!  Sex Pistols also returned to play at The Nag's Head in September 1976.  The fact their music is still be played, puts to bed the thought at the time that 'punk' was just a passing trend.
So, if you want to wallow in nostalgia and hear some classic tunes at the same time, get on down to The Antelope and support live music in the town.
Facebook event page
https://www.facebook.com/events/1104775026394350/
Venue
Band links
http://www.sexpistolsexperience.co.uk/start.htm