The Phoenix Bar in Bridge Street High Wycombe hosted a four band FREE event on Saturday 24th March 2018.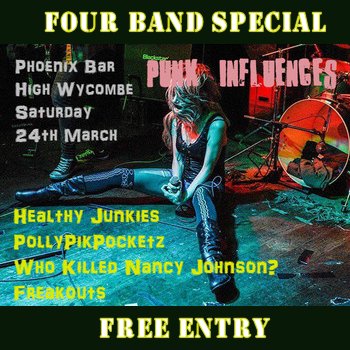 Details of the bands – taken from The Phoenix website, read as follows:
Healthy Junkies
Parisian Lead singer Nina Courson met British guitarist Phil Honey-Jones in 2009 in the now defunct venue Punk in Soho. Both of them were in separate bands at the time, but it wasn't long before ideas of their own and a new-found mutual volatility raised its wretched head and they started to write songs together. The shared influences of the likes of Iggy Pop, Nirvana, Blondie, Killing Joke,Sonic Youth, Bauhaus and Bowie played a big part and Inspiration for lyrics came from far and wide, blurring the lines between autobiography and fiction. They played their first gig together at an all day punk festival in Brighton in September 2010 where the promoter ran off with the money and Healthy Junkies only got to play for 15 mins before the festival shut down. Since then the band have played all over the U.K. including several appearances at the mighty Rebellion Punk Festival and their self-hosted monthly night at The Unicorn, Camden, London, called Punk'n'roll rendezvous – and have toured Europe regularly. Healthy Junkies were featured on a New York radio station and talk show in October and are laying the groundwork for an East coast US tour next year. On stage Nina interacts with the other band members and entices her audience in a way that has become the trademark of their live shows. Record releases include their debut album Sick Note in 2011, The Lost Refuge and Box of Chaos (STP Records) and the E.P. 'Hair of the dog'.
http://www.healthyjunkies.co.uk/
PollyPikPocketz
PollyPikPocketz are a double-vocalist rock band from London. The two front girls Ally and Myura formed as a songwriting harmony duo in 2014. Frog joined to help produce their tracks and soon they were churning out songs like lyrical machines, developing songs that were metaphorical, humorous, full of fun and sung with angst. A year and a half later Pollypikpocketz evolved dramatically when Mat joined as the guitarist, bringing an improv-style that chose "awesome sounding " over technical. Frog, previously a singer, found a new direction playing bass for PollyPikPocketz. The group today have a take-no-prisoners punk-rock feel. Their live sound has been described as "an intense, passionate performance that is in your face but with genuine emotion and laughter. Flowing harmonies and unique lyrics, that are tongue in cheek but always written from the heart. Incomparable to a single genre."
https://en-gb.facebook.com/pollypikpocketz/
Who Killed Nancy Johnson?
AReading-based high-energy original punk/post-punk band with a growing reputation as an incendiary live act, Who Killed Nancy Johnson? formed in 2015 and began gigging in 2016. Their 2017 EP Cops and Robbers was followed in 2018 by Flat Earth Theory, and an album is in the works for later in the year. They have played in Europe and have radio appearances and support slots for name bands under their belts.
Freakouts
A four-piece punk band from Surrey, Freakouts formed with the idea of inspiring carnage. Their raucous live shows make them ones to watch as they are beginning to break out of the hills and take the rest of the UK by storm. They're loud, fast, and in your face.
https://www.facebook.com/TheFreakouts%20/
 Please support live music in High Wycombe
Check out the Phoenix Bar website below for their latest gigs
http://www.thephoenixbar.co.uk/
Please post or send your reviews of the gig – see contact page for more details.  Thanks