Thursday 24th March 1977 – Bees Make Honey – Nag's Head
Reformed, early 1970's 'Pub Rockers', Bees Make Honey were booked to play The Nag's Head in March 1977. Formed in London in late 1971, their original line-up included Barry Richardson (bass), Deke O'Brien (guitar and vocals), Ruan O'Lochlainn (piano, guitar and sax) and Bob Cee (drums).  They were managed in their early days by Dave Robinson (then Manager of Brinsley Schwartz and later, founder of Stiff Records).  They released a single for EMI in the summer of 1973 called 'Knee Trembler'. An album followed shortly afterwards but the band broke up in 1974 after further recordings were rejected by the record company.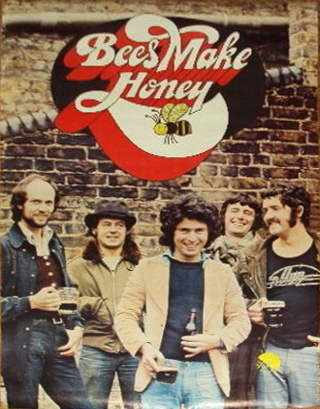 The inspiration to reform in 1977 may have been due to the knock-on effect of the growing punk scene? The 1977 line-up included Richardson (sax and vocals), Mick Molloy (guitar), Rob Demick (bass) and Paul Atkinson (drums) and Stan Grieg (keyboards).  They also played a few London dates at the time of their March 1977 Nag's Head appearance and it also followed a December 1976 live recording of a gig at The Nashville Rooms in London.
They would return to the Nag's Head for another performance in May 1977 but after a few more London appearances, appeared to have called it day later in 1977.
Perhaps most interesting during my brief research for this page, was the discovery of a YouTube clip of Bees Make Honey performing their track 'Caldonia' during a gig said to be filmed at The Nag's Head, circa 1973. This may bring back some memories of the sadly lost venue.
Thanks to https://www.irishrock.org/irodb/bands/beesmakehoney.html for the much of the source material on the background to Bees Make Honey.