The Sex Pistols hit the headlines again on Tuesday 7th June 1977 after a publicity stunt promoting their new single, 'God Save The Queen', attracted the attention of the police.  This was the occasion that The Pistols and their entourage launched their very own Silver Jubilee celebrations on a boat down The River Thames.
Nag's Head promoter Ron Watts and his right hand man 'Bruv' were invited to the boat trip.  The event has gone down in punk folklore alongside the infamous Bill Grundy evening in December 1976.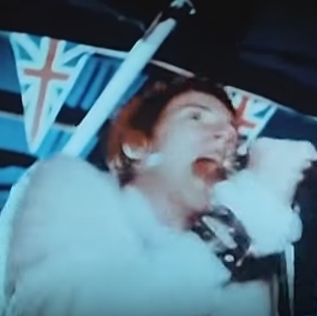 Various versions of the events that day have been recollected.  Julian Temple's film record gives a visual reminder, while Ron Watts recalls the day in his autobiography [100 Watts – A Life in Music], saying:
"It was all a big fuss about nothing but the tabloids had their headlines, another fire of moral outrage was fuelled and the public got their ration of scandal.  Just another day at the office, but it was to prove the last time I ever saw the Pistols play live."
This is some fairly decent quality footage of the afternoon from YouTube.
Pretty Vacant
Anarchy in the UK
Problems