Thursday 20th January 1977 – Generation X – Nag's Head
Generation X had been formed at the tail end of 1976, when 21 year old William Broad dropped his guitar playing role with early punk rockers Chelsea, to take on the pseudonym 'Billy Idol' and create his own band – taking with him/stealing, bass player Tony James (23), drummer John Towe – then adding 17 year old guitarist Bob Andrews.  They played their first gigs in London during December 1976, with their second ever live outing taking place on the opening night of The Roxy in Neal Street, Covent Garden.
Their appearance at one of the regular Thursday Punk nights at The Nag's Head appears to be their first live gig outside of London and only their 9th ever gig.  Their style was more rock n'roll, rather than the chaos and political statements of The Sex Pistols and The Clash but the charismatic Idol was a crowd puller. Their set-list included Day by Day, Listen!, Youth Youth Youth and Your Generation.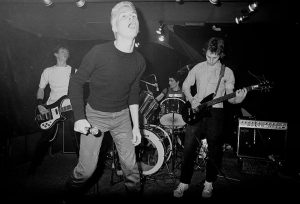 Support for Generation X at The Nag's Head comes from The Bumpers.
It will be the first of four appearances for Gen X in Wycombe during 1977.