Manchester's Joy Division made a late night appearance in High Wycombe on Wednesday 20th February 1980, just three months before the tragic suicide of lead singer Ian Curtis.
Support came from a rapidly rising Killing Joke plus A Certain Ratio and Section 25.  High Wycombe's The Jones Boys were also due to play but a combination of an overloaded billing and a delay in the gig getting underway, forced heated debates and a reluctant decision to step aside – much to the disappointment of many of the local crowd.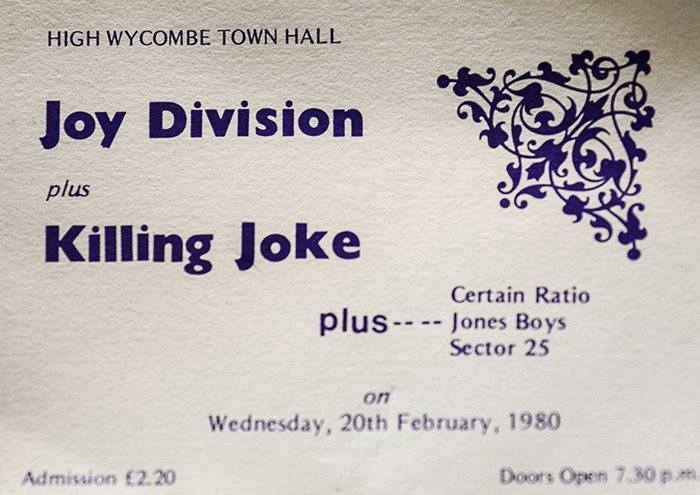 This is another gig where history revisionists could have a field day re-living the moment when a now iconic band, such as Joy Division, visited High Wycombe.  However, re-winding back to February 1980, Joy Division were far from the symbolic post-punk band they were to become following the death of Curtis in May 1980.
Joy Division had released their debut album Unknown Pleasures in June 1979.  Although critically acclaimed in the music press, the album did not chart.  A support slot on a Buzzcocks tour later in 1979 was also thwart with technical problems, leaving the band as very much an underground outfit, albeit with an ever growing cult and loyal following.
The date at High Wycombe in February 1980 was part of their first UK outings where they headlined major venues – the High Wycombe appearance coming just under two weeks since a date at the University of London and just over a week prior to a prestigious headline slot at The Lyceum in London.  All three of the dates included Killing Joke, ACR and S25 as support.  However, the High Wycombe slot, promoted by Fresh Music, rather than local promoter Ron Watts, appears to have been slipped into the tour itinerary at a fairly late stage, therefore missing from many of the music paper listings and relying on local advertising and word of mouth.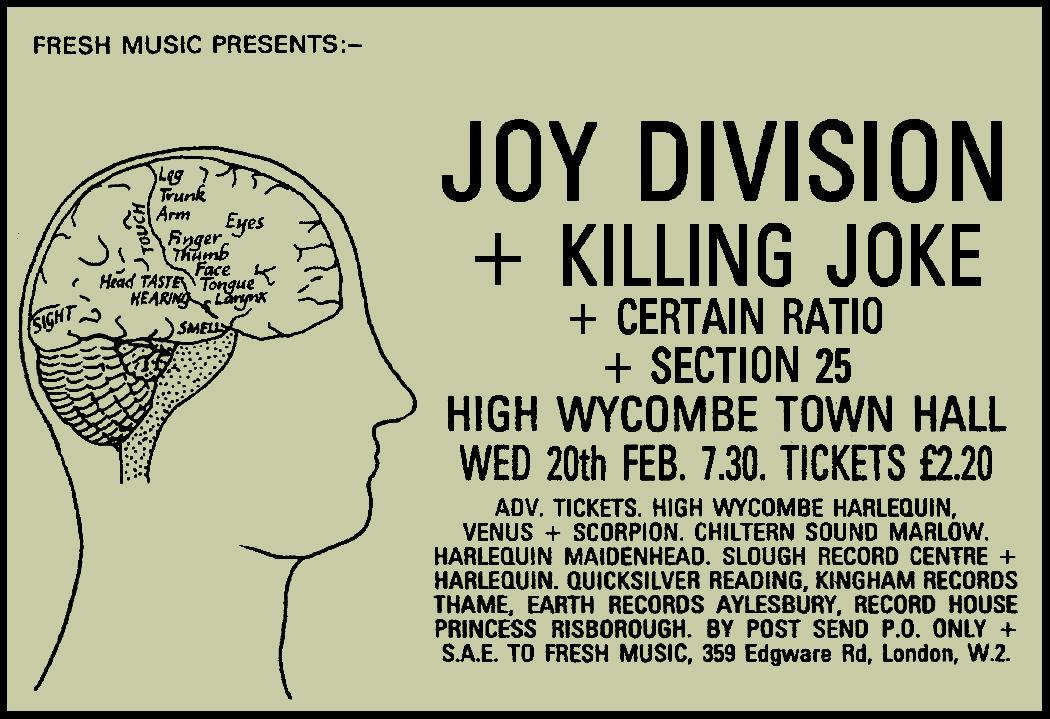 Due on first were The Jones Boys.  They had built up a healthy local support since changing their name from After Science towards the end of 1979.  Consisting of three brothers from the Jones family (Roy, Martin and Paul) plus bassist Majid Ahmed, they had drawn decent crowds to The Nag's Head and SU Bar in the weeks leading up to what would have been their first appearance on the biggest stage in High Wycombe.  They included a new track, 'Machines in Motion', in their soundcheck that evening.  The track would eventually be released, towards the end of 1980, as a debut record for the group following another name change – this time to Red Beat.
20-year-old lead singer Roy Jones had been in the same class at High Wycombe's Royal Grammar School as Killing Joke drummer Paul Ferguson.  Exactly four years previous, 'Big Paul' Ferguson had seen Sex Pistols play at High Wycombe College at the time when he was in 'regular' rock band Beowulf.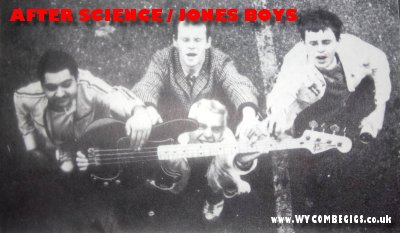 Killing Joke had hit the post-punk scene late in 1979 with their Malicious Damage released EP, including tracks 'Turn to Red' and 'Nervous System', plus further credibility via a John Peel session first broadcast in October 1979.
It is no exaggeration to say that the attraction of seeing Killing Joke and/or The Jones Boy was as strong for many of the locals in the audience that night, as seeing Joy Division.
To put this more into perspective, as I write this on the 40th anniversary of the gig, Joy Division's best known song, 'Love Will Tear Us Apart', had yet to be released.  The first radio play had come on a John Peel session broadcast in December 1979 (just two months before the Wycombe gig).
So back to the evening at High Wycombe.  The Jones Boys finished their soundcheck but according to singer Roy Jones in an email sent to me in June 2019, the band didn't want to be the first on stage that evening.  "We had a big following in Wycombe and if we'd have gone on first at 7:30 no one would have seen us."  He added: "We asked Killing Joke if we could go on before them and they agreed."  Hence, this begins to unravel my confused memories of The Jones Boys about to take stage after A Certain Ratio had completed their set.  Roy explains: "So we started to set up after A Certain Ratio had finished, only their drummer wasn't happy about us coming on after them and he threatened to wack my brother Martin, our guitarist, over the head with a cymbal stand. I had to make a snap decision and decided it wasn't worth risking Martin getting hurt so we backed down!"
It was not a popular decision with a local crowd, who had already given a luke-warm reception to both Section 25 and A Certain Ration.  However, Killing Joke didn't disappoint, bursting on stage with a fire eater and opening with 'Pssyche' – lip synched in the main by lead singer Jaz Coleman, while the vocals were song by Paul Ferguson on drums.
Ending with their set with storming versions of 'Wardance' and 'Are You Receiving?', they were called back for an encore – performing a cover of Sex Pistols 'Bodies' sung by KJ roadie Alex Paterson.  The internet tells me the then 20-year old would later co-found The Orb with Jimmy Caulty.
At the conclusion of the KJ set, with the time approaching 11pm, a fair amount of the crowd departed, leaving Joy Division to play their abbreviated 35 minute set to a dwindling audience.  For those unfortunate to have left early or just simply missed the gig, we are extremely lucky to have fantastic audience recordings of all the sets that evening made by Duncan Haysom.  The Joy Division recording was remastered in 2007 for an expanded version of the 'Still' album and also includes the full soundcheck.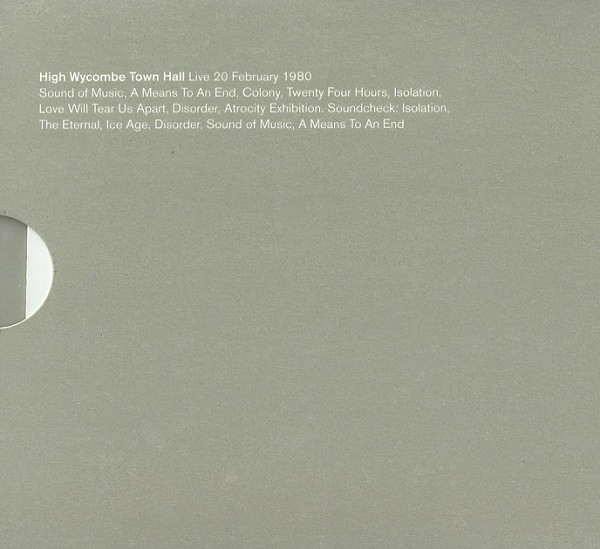 All the sets recorded are absolutely worth a listen – especially if you able to use headphones.  They have definitely captured the atmosphere of the evening and many other gigs of the time at High Wycombe Town Hall.  If you are a Joy Division fan then you were realise their set is simply breath taking and has a haunting sound quality that displays a band finding their true sound – a sound that has influenced so many bands and artists since.
The gig has also been recalled by another member of the Killing Joke road crew, Adams Morris.  In an interview for Louder Than War in June 2019, he said: "I have to tell you, when I put that High Wycombe CD on and the soundcheck recordings played, almost twenty years after the show, I had the most vivid flashback. I was there in the hall again, I could almost smell the stale beer from the previous evening's entertainment."
Morris also remembers the High Wycombe gig as the only time he engaged with Ian Curtis, explaing. "[Ian Curtis] was carrying a six-pack of lager. Lager was what the promoter had put on the rider. He looked at me and asked, very politely, "can I swap this for some stout?" I shook my head, "nah mate, you are down south now, they don't do stout". I probably added something like "the soppy southern jessies" as I was prone to do back then. Ian looked sad, grunted and disappeared again "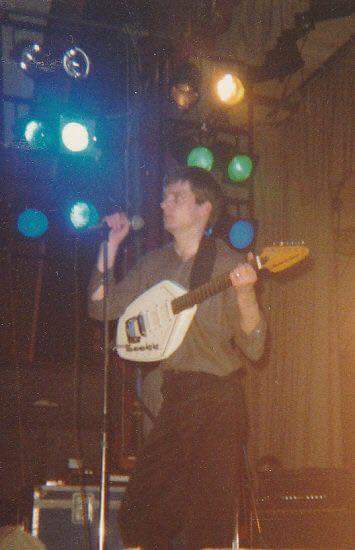 Finally, returning to the history of  'Love Will Tear Us Apart', regular Joy Division guitarist Bernard Sumner would play keyboards during live renditions of the track, while Curtis would strum a 'D' chord on his white Vox Phantom guitar.  A couple of pictures from the High Wycombe gig surfaced on social media in 2017 showing Curtis with his distinctive guitar and presumably singing LWTUA (the 6th song they played that evening, during a 35 minute set). The track was eventually released as a single in June 1980, just a few weeks after Curtis had taken his own life at his Macclesfield home on 18th May 1980.
Set Lists at High Wycombe – 20th February 1980
Section 25
After Image
Knew Noise
Regions
Mirror
My Mother Ate My Soul
Girls Don't Count
A Certain Ratio
Do the Du
And Then Again
Oceans
Choir
Crippled Child
The Fox
Suspect
All Night Party
Flight
Genotype/Phenotype
Killing Joke
Pssyche
Tomorrow's World
Nervous System
Turn To Red
Nuclear Boy
Change
Complications
Wardance
Are You Receiving?
Bodies (Sex Pistols Cover)
Joy Division
Soundcheck
Isolation
The Eternal
Ice Age
Disorder
The Sound Of Music
A Means To An End
Main set
The Sound Of Music
A Means To An End
Colony
Twenty Four Hours
Isolation
Love Will Tear Us Apart
Disorder
Atrocity Exhibition
For your listening pleasure
Section 25 – After Image – audio via YouTube from High Wycombe gig
A Certain Ratio – Do the Du – audio via YouTube from High Wycombe gig
Killing Joke – Pssyche – audio via YouTube from High Wycombe gig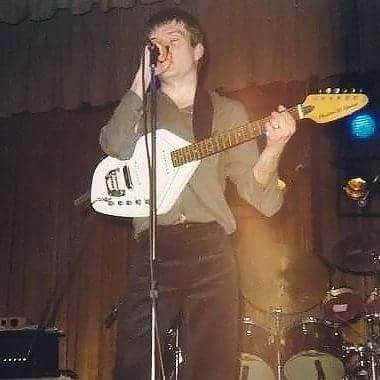 Joy Division – Love Will Tear Us Apart – audio via YouTube from High Wycombe gig
Joy Division – Atrocity Exhibition – audio via YouTube from High Wycombe gig

References and further reading
https://www.joydiv.org/index.htm
https://www.killingjoke.co.uk/
https://en.wikipedia.org/wiki/Killing_Joke
https://en.wikipedia.org/wiki/Alex_Paterson
https://louderthanwar.com/1980-joy-division-supported-killing-joke-3-iconic-gigs-eye-witness-account/
https://dredzilla.com/ – includes Red Beat history by Roy Jones
I would love to hear from anybody who has any more memories or photos to add.  Remember you can also follow me on Twitter via the buttons below