Thursday 18th March 1976 – 101'ers – Nag's Head
London pub rockers, The 101'ers, led by a 23 year old Joe Strummer played The Nag's Head in what would turn out to be one of their final live outings before Strummer 'saw the light' and joined The Clash.
Formed in May 1974, The 101'ers  progressed to be one of the top London 'Pub Rock' bands of the time, along with Dr Feelgood and Kiburn & The High Roads.
The trip to High Wycombe appears to be a rare venture outside of the capital – with their regular jaunts usually taking place in West London pubs.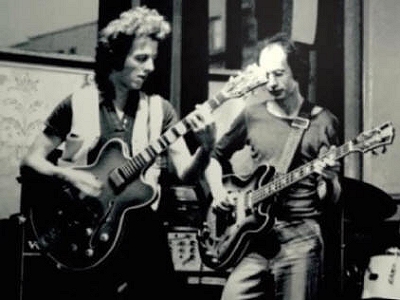 Their recorded output was limited too. A few days after their Nag's Head appearance they put the final touches on their debut single – 'Keys to Your Heart'.  By the time the single was released a couple of months later, The 101'ers had split.
It was at a 101'ers gig a couple of weeks after their Nag's Head appearance that Strummer saw the band that changed his life.  The support band for their appearance at The Nashville on 3rd April 1976 were The Sex Pistols.  When the audience didn't respond to the output from The Sex Pistols, the Pistols' followers in the audience, including Sid Viscious, started a fight.  Strummer was suitably impressed with both their attitude and their music.  The 101'ers would see The Sex Pistols support them again at The Nashville on 23rd April 1976.
Commenting later, Strummer said:
"When I saw [The Sex Pistols] I realised you couldn't compare them to any other group on the island, they were so far ahead.  And I knew we were finished. Five seconds into the first song, I knew we were like yesterday's papers. I mean we were over!".
In the audience the night Strummer first saw The Sex Pistols were Mick Jones and Paul Simonon (both 20 years old).  A few weeks later Strummer was invited to join The Clash.  Strummer would replace High Wycombe's Billy Watts in a pre-gigging version of the band.  The Clash would make their live debut in July 1976 and Strummer would return to High Wycombe to play with his fast rising new band in November 1976.  Exactly one year after The 101'ers appearance at The Nag's Head, The Clash would release their first single, 'White Riot'.
Here's a YouTube audio of 'Keys To Your Heart'.